sold my beloved coupe that i had and was building for almost two years!!! kinda miss it actually. i miss it a lot =//
now i picked this up from a friend! used to be nacker's first coupe heres his build from 2006
http://www.cardomain.com/ride/485692/1989-nissan-240sx/page-2
if u guys didnt know who nackers is good local driver that drives this
anyway so i picked his old car up and he said if i ever wanted to sell it he would buy it back haha
my old car in the new owners hands =/ sold it for 5500 i kept my wheels n seat ahah!
and heres the new car
put my wheels and seat on BAM
mods as follow
89 coupe
Fresh Redtop SR and transmission
S15 T28 turbo
GReddy huge FMIC/piping
HKS wastegate actuator
GReddy Type S bov
3" downpipe with screamer pipe
Straight pipe to blast pipes (very loud)
ACT stage 3 clutch (6 puck unsprung)
Walbro 255 fuel pump
Megan links/coils etc
Front and rear strut tower bars
4pt harnesses
Old Sprint Steering wheel
6500k HIDs
Circuit Sports clear lenses on triple projectors
D-Max red/clear taillights
Aftermarket e-brake cable caliper bracket things
Welded diff
Origin Urban Line side skirts and rear bumper
Aero hood (unknown brand)
GTR grille
OEM Zenki front with pignose lip
Painted the car this blueish green a few weeks ago. Looks like it's baby blue in pics, but it's actually more greenish.
and yes i know color reminds me of teddy's old coupe i did not paint it this color the previous owner did my friend teo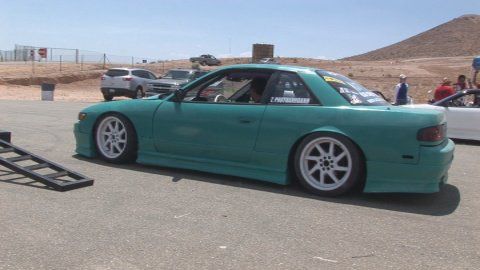 missed my widebody so i went ahead and traded my friend my stock metal for his 20mm origin fenders and he gave me this vs bumper needs a lil bit of work pretty easy fix
bla bla bla
next - get spacers, s14k's wing, 30mm rears pretty much same setup of my old car then bricks!